Regular price
$95.00 USD
Sale price
$97.00 USD
Unit price
per
Sale
Sold out
The CO2LiftPro is the strongest version on carboxy gel only available to Aesthetic and Medical Providers.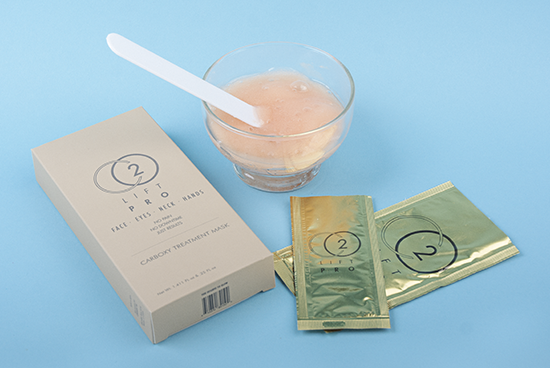 It is an in-office or at-home treatment that delivers CO2 cutaneously over 35 minutes to an hour. This transdermal, noninvasive facial mask is recommended for post-procedure care after invasive procedures such as needling or laser.
In one use, the CO2LiftPro mask:
Speeds healing
Boosts oxygen concentration
Increases microcirculation
Tightens skin appearance
Reduces pore size
Smooths skin texture
Increase skin hydration by 117%+
How to Mix and Apply CO2LiftPro Carboxy Gel
Massage the small packet to soften it before opening it.
Empty the entire contents of the large pack and small pack into a small mixing bowl.
Mix thoroughly for 1 minute to activate the carboxy.
Apply immediately to the area being treated with the small application stick.  If applying to the face, start under the eyes, move up to the lash line, including the lips, and end with the eyelids.
Make sure the application layer is thick, like frosting a cake.
Leave on for 35-45 minutes.
Remove with an application stick.
CO2LiftPro as a Medical Monotherapy
Clinical studies of topical carboxytherapy show dramatically increased hydration by 117% compared to baseline post-treatment for

 

up to 3 weeks.
Medical uses of topical carboxytherapy:

Severely dry skin
Itchy skin
Speedy healing of wounds
Increase blood flow
CO2LiftPro as an Aesthetic Monotherapy
Aesthetic uses of topical carboxytherapy:

Fine Lines/Wrinkles
Crêpey Skin
Dark Circles
Inflamed Skin
Textural Imbalances
Dehydration
Enlarged Pores
Dull Tone

Safe when applied to upper eyelids and on mucosal membranes
CO2LiftPro For Energy-Based Treatments
Medical grade topical Carboxytherapy Gel is proven safe to use pre- or post-procedure for:
Less pain during treatment
Reduced complications
Reduced downtime
Improved procedural outcomes
Improved patient experience
Reduced post-treatment side effects
Methodology for Energy-Based Treatments
DAY 0
Perform Treatment
Mix and immediately apply CO2Lift gel to the area treated.  Wait 35 minutes.
Remove CO2Lift gel and clean skin.
DAY 1 AND DAY 3
Patient performs CO2Lift treatment at home.
DAY 30
Patient performs CO2Lift treatment at home for monthly maintenance.
CO2LiftPro for Fillers, Threads, and Other In-Office Treatments
Medical grade topical carboxytherapy gel is safe to use pre- or post-procedure to prep skin and:
Reduce downtime
Improve procedural outcomes
Improve patient experience
Reduce post-procedure side effects
Minimize bruising and swelling
Methodology
Apply numbing cream. Wait 5 minutes.
Apply topical carboxytherapy gel on top of the numbing cream. Wait 35-55 minutes.
Remove the gel and clean the skin.
Perform filler treatment.
Patient performs 2 additional topic carboxy treatments at home every other day.
Share
View full details